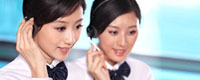 E-mail: sales1@fortunehardware86.com
E-mail: sales2@fortunehardware86.com
Add: A2501,Oriental Times Plaza, North Huaqiang Rd, Futian District,Shenzhen,China



Product name : Stainless Steel Flat Washer

Item : MTWSHFLWST

material : Stainless Steel
Details:
Standard:
DIN125/DIN126,
GB/T97.2-1985/GB/T97.2-1985,
ISO7089/ISO7090
Material: SUS301,304,18/8,0Cr18Ni9,X5CrNi1810,X10Cr13,410S21,if you need to use other stainless steel, please let us know.
Heat Treatment: None for normal, If you have special hardness requirement, please let us know.
Surface Hardness:220HV is Normal, 750HV max after Quench with SUS410
Finish:None.
Refer to document as below:

Stainless Steel Flat Washer.pdf
Stainless Steel Flat Washer
intended for the general use under the head of a bolt or nut in order to provide a smooth bearing surface and distribute the fastener load over a wider surface area. Available in many sizes, specifications, grades, and finishes.
"Stainless Steel" - With the addition of 12% chromium to iron, stainless steel is formed. The chromium protects the iron against most corrosion or red colored rust; thus the term "stainless steel". The ability of stainless to form a thin layer of protection on its outside surface, called a "passive film", is its most important characteristic in preventing corrosion.
"18-8" - 300 series stainless steel having approximately (not exactly) 18% chromium and 8% nickel. The term "18-8" is used interchangeably to characterize fasteners made of 302,302HQ,303,304,384, XM7, and other variables of these grades with close chemical compositions. There is little overall difference in corrosion resistance among the 18-8 types, but slight differences in chemical composition do make certain grades more resistant than others against particular chemicals or atmospheres.
Austentic - Refers to 300 series stainless, the most popular of the stainless alloys accounting for 85%-90% of stainless fasteners sold Named for sir Robert Williams Austen, an English metallurgist, austentic stainless is a crystal structure formed by heating steel, chromium, and nickel to a high temperature where it forms the characteristics of 300 series stainless steel.

And below is the common drawing for this kind: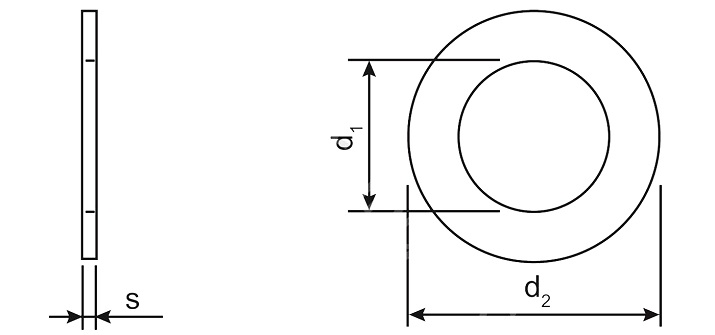 Below chart show some typical dimensions of them, you can refer it, or can you change it for your own design, if you want know more standard dimensions of screw , you can contact us.
| | | | |
| --- | --- | --- | --- |
| d | d1(mm) | d2(mm) | S(mm) |
| M4 | 4.3 | 9 | 0.8 |
| M5 | 5.3 | 10 | 1 |
| M6 | 6.4 | 12 | 1.6 |
| M8 | 8.4 | 16 | 1.6 |
| M10 | 10.5 | 20 | 2 |
| M12 | 13 | 24 | 2.5 |
| M14 | 15 | 28 | 2.5 |
| M16 | 17 | 30 | 3 |
| M20 | 21 | 37 | 3 |
| M24 | 25 | 44 | 4 |